Dozens of Afghan English teachers living in fear as they hide from the Taliban: 'We will die'
Dozens of English teachers and their families in Afghanistan fear for their safety and hope to evacuate the country, but remain stranded without resources or adequate support to escape following the Taliban's rapid takeover last month.
The Taliban regained near-total control of Afghanistan in mid-August, leading to a dramatic U.S. military-led evacuation of more than 122,000 Americans, green card holders, U.S. allies, and Afghans who worked with the America and its allies during the two decades of Afghanistan. War. But many Afghans, and some Americans, were unable to evacuate before the full withdrawal of US forces.
In the case of Afghan English teachers, who are in direct communication with several American academics who have spoken to Newsweek– some were trying to get the Priority 2 (P-2) designation visa under the US refugee admissions program through the State Department before the troop withdrawal. However, with the United States completely out of the country, they are stuck with no resources to complete the process or leave Afghanistan.
"These teachers were the public faces of their language centers and are now being harassed and threatened, or at least fired and told they have no way to earn a living. Several have received death threats, including a few- ones on official Taliban letterhead," Laura Holland, senior instructor at the American English Institute at the University of Oregon, said Newsweek.
Holland first contacted many Afghan English teachers through a program over the summer where she met them and taught them methods of teaching English as a second language (ESL) through the through virtual courses. She and other scholars in the United States stay in touch with the group of more than 50 Afghans through a secure channel, where teachers voice their daily fears and worries about their uncertain future.
"English as a second language teachers are highly visible targets in their communities with known association and ties to the United States. They are in hiding and many of them have received death threats, and many of their centers languages ​​were ransacked and told they weren't allowed to work anymore," said Kara Lawrence, a doctoral student in the Department of Public Administration at the University of Washington's School of Public and International Affairs. North Carolina State. Newsweek.
Lawrence said she, Holland and others work hours each week to find ways to help stranded teachers. They reached out to lawmakers, the State Department, and other government channels, and anyone they could find through social media who worked to evacuate people from Afghanistan.
"I have been contacting the State Department since late July and have never heard back. I write weekly to congressional and senate representatives who work for this cause, but I just get messages saying 'thank you. of your interest,'" Holland said. Explain. "Same from the White House."
"We hit wall after wall, even when we had individuals who said they would look into their case," she added.
A State Department spokesperson said Newsweek that the United States continues to work to help vulnerable Afghans, but did not specifically address the concerns of English teachers when contacted for comment.
"We continue to identify ways to support U.S. citizens, lawful permanent residents, and Afghans who have worked with us and who may choose to leave. We have no illusions that any of this will be easy or quick. We recognize that there are many at-risk citizen Afghans who are not eligible for the Special Immigrant Visa," the spokesperson said. "We will continue to assist Afghans who may be eligible for referral to the U.S. admission of refugees and Afghans at risk. This effort is of the utmost importance to the U.S. government."
In a letter to the US Embassy written by a group of English teachers, they expressed serious concerns for their safety, according to a copy reviewed by Newsweek.
"We have been hiding from place to place for over a month. Our money has run out. We cannot support our family for more than a week," they wrote. "Our families are also in danger because of us. If this situation continues for more than a month, we will die…"
Lawrence said a member of the teacher's family was tortured in his home while he was away. His father was also taken away by the Taliban and severely beaten before being sent back two days later. Newsweek examined a photo of the father's back covered in marks from the beatings. Lawrence said the teacher told him that "he sees his death every moment" and "dreams of his death because of the situation he is in".
While the US government says it is trying to help vulnerable Afghans, it is struggling to provide support without troops or other resources on the ground in the country. NPR reported on Monday that thousands of Afghans trying to flee Taliban control remained stranded near Mazar-i-Sharif International Airport in the north of the country. But the Taliban reportedly delayed or prevented planes from taking off.
Many English teachers tried to evacuate Kabul International Airport before the full US withdrawal last month. Holland said some of them had spent "weeks and all their money" trying to escape through the Afghan capital.
"They were told by their managers to wait for the evacuation, but the deadline passed and they had to go back into hiding," she said. Holland said some made "terrifying journeys back to their cities, often with Taliban in their cars accompanying them from checkpoint to checkpoint."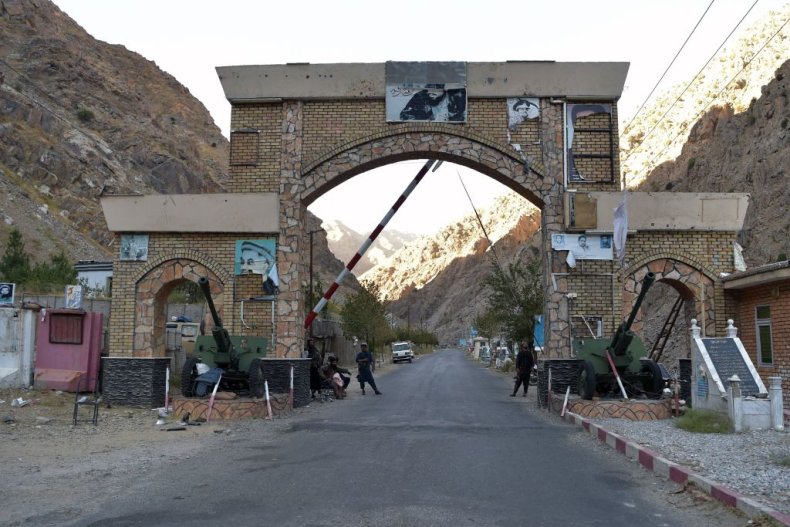 Although the Taliban have insisted that they aim to build an "inclusive" society and renounce the oppressive and violent actions for which the group is known internationally, there have already been numerous reports regarding the torture, revenge killings and repression in Afghanistan since the group regained power. . The Taliban's caretaker government does not include any women, and protests for women's rights have been violently dispersed. Journalists were also tortured.
"Taliban security forces dispersed most of these recent protests by beating protesters, confiscating and damaging cameras, and threatening journalists," Human Rights Watch reported this month. "On September 7, the Taliban announced that protests, in general, are illegal unless approved in advance. Journalists covering some protests said they were told by Taliban officials that reporting on the protests was also now illegal."
For now, English teachers remain stuck under the Taliban regime with thousands more hoping to leave Afghanistan. "Everyone is stuck at different points in the vicious cycle," Holland said. She pointed out that under current State Department policy "there is no guarantee that even if they arrive in a third country, they will be approved for a visa."